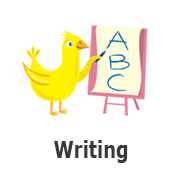 Writing Activities
Use empty spray or squeeze bottles in fun ways. Fill the spray bottles with water for a fun fine motor activity. Spray the bottles on the sidewalk, snow or on the ground outside, write your name, draw pictures or just spray. The rain and snow will wash away all the colors.
Have your child start scribbling or drawing or writing by themselves. Give them a crayon, pencil, washable marker and paper. Allow them to try to create things on their own. This builds fine motor skills necessary for writing.
Writing is a process. As children develop better control over the muscles in their hands and fingers, their scribbles begin to change and become more controlled. Toddlers may make repeated marks on the page—open circles, diagonal, curved, horizontal, or vertical lines. Over time, children make the transition to holding the crayon or marker between their thumb and pointer finger and it will look more like picture formations.