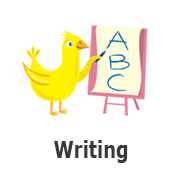 Writing Activities
Get messy! Put shaving cream on a sheet pan and have your child scribble, draw pictures or write letters. This is a great way to practice fine motor skills, hand eye coordination and movement skills. This activity is easy to clean up and it smells good.
Make a writing center for your toddler. Put paper, markers, pencils or crayons in an easily accessible place. Talk to your child about drawing on paper only. This allows your child to draw, scribble or write freely. Draw with your child to create a unique fine motor experience.
Write a thank you note to a friend or family member with your toddler's help. Have your child draw a picture to accompany the note, they can also practice writing their name.