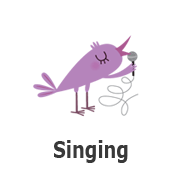 Singing Activities
Singing with your child can encourage his sense of rhythm by tapping the beat with your foot while singing and changing simple rhythmic nursery rhymes. These rhythmic movements will help your child with future reading concepts.
Toddlers love to move and music allows them to actively participate. Interactive opportunities such as rocking, marching, rolling, tapping, clapping, and moving to the beat are most effective with toddlers. Create these opportunities at home and dance around the house with your child. Create your own silly songs and hand motions. Try to use your child's name in the song or rhyme.
Singing nursery rhymes can promote vocabulary, oral language, prediction skills, cause and effect and family traditions. Many nursery rhymes contain unique vocabulary such as tuffet, water spout, meeny, or seesaw. Learning new words and definitions are helpful for future reading development.
Visit the West Bloomfield Township Public Library to borrow books, music, and videos. These interactive songs will encourage oral language, movement and an exciting visit to the library. The library also provides a nursery rhyme and finger play booklet for families in our service area, just ask a friendly youth librarian.