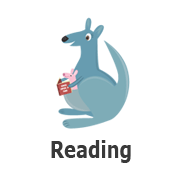 Reading Activities
Rhyming books or nursery rhymes are a great way for children to get involved in what you are reading. Once your toddler is familiar with the rhyme or pattern, you can pause and your child will fill in the rest of the rhyme. Nursery rhymes and rhyming books encourage speech and language skills, vocabulary, early literacy skills, active participation and rhyming. The Library's Nursery Rhymes, Songs and Fingerplays resource includes favorite rhymes and tips for using them to develop language skills. Visit the Library and ask for a copy of our Nursery Rhymes, Songs and Fingerplays resource.
Read everywhere you go. Read signs on the side of the road while driving in the car, signs in the store, newspapers, magazines and items around your house. Modeling reading skills to your child will set a positive life lesson about the importance and value of reading.
Introduce the book before you read it aloud. Read the title and author of each book. Before you begin to read a story, ask your child to predict what the story is about by just looking at the cover and the pictures. Ask questions as you read such as "What do you think is happening here?", and "What do you think will happen next?" Children learn best when they are actively involved.