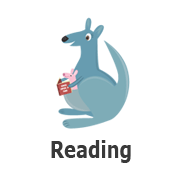 Reading Activities
Read a book aloud. Stop every now and then and point out letters, words, and discuss what's happening in the pictures. Eventually, your child will begin to understand that the letters form words and connect letters to his/her name.
Encourage your toddler to ask questions or make predictions as you read a book. Point to things in books that he/she can relate to in her own life: "Look at the picture of the horse. Do you remember the horse we saw at the farm?"
Be enthusiastic about reading. Read the story with expression and varied tone of voice. Make it more interesting by changing your voice for each character, making sound effects and using facial expressions and gestures.
Visit The West Bloomfield Township Public Library often. Make weekly trips to the library when your child is very young. You can even get your toddler their own library card to check out books and encourage the love of reading any further.