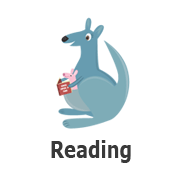 Reading Activities
Toddlers enjoy helping out. Give your child a simple task: Go get your shoe. Make sure the object is in sight. As her receptive language (the words she understands) grows, you can ask your child to get a familiar object that is not in sight: Can you find your dump truck. This is a great way to help your toddler learn new words and to listen and follow directions.
Make reading aloud to your child a part of your daily routine. Make reading aloud a quiet and comfortable time that your child looks forward to.
Visit the Library for a storytime. Storytime promotes early literacy in a variety of ways through books, fingerplays, songs and movement. These interactive storytimes are an important way for a child to learn social cues from their caregiver, so be an active part of storytime alongside your young child.