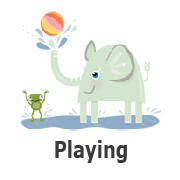 Playing Activities
Toddler play can be imaginative and use items easily found around your house. Empty boxes (cereal, stove, boxes from packages), wooden spoons, shirts or shoes or pots and pans is all it will take for your toddler to use their imagination and create their own play scenario. Playing with everyday household items teaches your toddler how to interact with others, use their imagination and be creative.
The playground is a rich learning opportunity for children. In the sandbox, offer your child different size balls, pails and shovels to help him/her practice using fine motor skills, as well as math skills such as full/empty. Crawling through tunnels, slides or bridges will teach him/her about in and out, up and down, and fast and slow.
Play with your child and be silly. Children love to laugh especially when adults join in on their fun. Jump, dance, sing, create silly walks, sing a funny song, or invent a little dance with them during the day. It creates bonds with your child while learning, playing and laughing and when children laugh, they're more likely to remember what they learn.