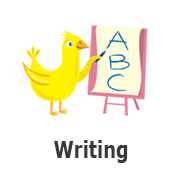 Writing Activities
Involve your child in family writing activities such as making shopping lists, thank you cards, to do lists, everyday notes, or notes for school. This will encourage the writing process in young children, it will continue to model good writing habits, and allow children to see writing in action.
Preschoolers love letters and notice them everywhere. Write your child's name and have him copy with alphabet stamps, stickers, or magnets. Encourage your child to write his/her name with pencil and paper.
Draw pictures, write numbers or letters on the sidewalk and then spray that number with water bottle or hose to see what happens.
Put sand or shaving cream in a sheet pan or cookie sheet. Have your child practice writing letters, drawing pictures or writing their name.