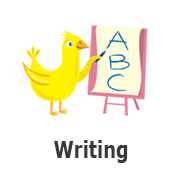 Writing Activities
Practice opening up snacks such as water bottles, snack bags. This helps with fine motor skills which is necessary for handwriting skills. Let your child scribble using food items such as yogurt or pudding in their high chair or a washable tray. This way your child will learn fine motor control, have fun, and eat at the same time.
Have your child draw a picture and then ask your child to dictate a story to you. It should include descriptions, so be prepared to ask a lot of questions. This will help children learn to recall events, objects or family outings to retell a story.
Use a piece of paper or white board to write fun family news in your house. This is a great way for your child to watch you write a message but also see how letters are formed.