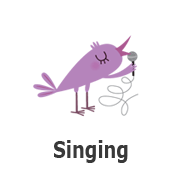 Singing Activities
Have your clap, dance, or stomp to the rhythm of a song. Rhyming and singing enables children to hear a steady beat, patterns of speech and rhythm, which is an important early literacy skill needed for future reading development.
Visit the West Bloomfield Township Public Library and ask for a Nursery Rhymes, Songs and Fingerplays brochure. Nursery rhymes encourage vocabulary, rhyming, repetition, creativity, music, movement, counting, pretend play, speaking, listening and comprehension skills.
Have your child sing songs during their daily routines such as washing hands, bath time, emptying the dishwasher, cleaning up his/her room, chores or play time. Songs will increase motivation during an activity and make it seem more appealing.