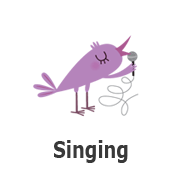 Singing Activities
Make your own instruments like egg shakers or drums. There are many household items that can be easily transformed into an instrument such as pots and pans make awesome drums and dried beans in an empty water bottle to make a shaker. Instruments allow children to be creative, learn a new beat or rhythm, which helps with reading skills.
Sing a nursery rhyme in many different ways. Sing the Itsy Bitsy Spider, then sing The GREAT BIG Spider, lastly sing The Teeny Tiny Spider. You can also sing the silly spider, the sad spider, or happy spider.
Get up and move! Visit the library and check out a CD. The West Bloomfield Township Public Library has great CD's perfect for an interactive and direction based music experience for young children to follow along.