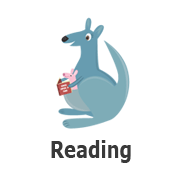 Reading Activities
Provide your child a text-rich environment that lays the groundwork for reading success. Read books in the home, ask questions about the book, characters and setting. Start talking about letters, numbers, and words on packages and signs.
Visit the Library and check out a read along. Read along books that have a CD or audio source to read the books aloud. You can still turn the pages and read the book while listening to someone read the book to you. It's a fun way to become interactive and introduce them to a new type of audio book.
Read books with repetition. Preschoolers will eventually be able to repeat the repeated words or phrases independently. Preschoolers often pick up a book and will pretend read. They will use the pictures or memory as a guide. Always have books readily available for your preschooler.