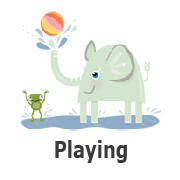 Playing Activities
Use household items to get creative at home. Use popsicle sticks, cards, blocks, boxes from different food items or build forts out of boxes or pillows, cardboard boxes. Who can build the highest tower? Who can build the most stable bridge?
Exercise those creative, cognitive and problem-solving muscles with a good puzzle. Puzzles are great for fine motor development and recall. You can also play memory or a board game. Games are a great way to mix it up and get to problem solving.
If your preschooler loves to play with trains and cars, have them draw a large map on an old box or large paper. Draw roads, bridges and tunnels, add creative scenery, have your child drive their cars or trains on the tracks or roads they created.