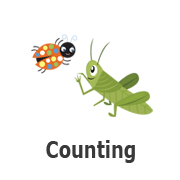 Counting Activities
Count objects in everyday contexts. Count the buttons on your child's shirt, the apples in the grocery cart, the forks needed to set the table, or the stairs to the front door. This is a great way for your child to start counting, but also recognize numbers in everyday life.
Play board games that involve counting, fine motor and simple number recognition. Simple board games can help preschoolers recognize numbers on a dice and count moves. This also encourages children to share, take turns and learn to play as part of a team.
Building with blocks provides children with the basic understanding of geometry and spatial awareness. This encourages children to see a block in a variety of forms, not just as a cube or as a square, but as a tower or castle.