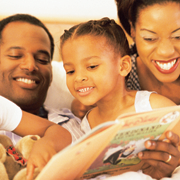 Websites
American Library Association
PLA and ALSC's Every Child Ready to Read Preschool Literacy Initiative
Learn how public libraries help children start school ready to learn. The West Bloomfield Township Public Library participated in this study.
Common Sense Media
This website is a great tool to help you rate materials such as movies, video games, books, websites, music, and apps to determine if they are age appropriate for your child.
Division for Early Childhood (DEC)
The Division for Early Childhood (DEC) promotes policies and advances evidence-based practices that support families and enhance the optimal development of young children (0-8) who have or are at risk for developmental delays and disabilities. DEC is an international membership organization for those who work with or on behalf of young children (0-8) with disabilities and other special needs and their families.
Get Ready to Read
Get Ready to Read! is designed to support educators, parents, and young children in the development of early literacy skills in the years before kindergarten. Intended for use with all children, the resources and information provided on this site promote skill-building, communication between adults, and ways to address concerns.
Harvard Family Research Project
The Harvard Family Research Project, now the Global Family Research ProjectTM, provides important research and strategies for engaging families to promote success in education for children. The organization was founded in 1983 and focuses on community engagement policies and practices, and offers tools and frameworks for community members and institutions who aim to improve the quality, accessibility, and sustainability of out-of-school learning experiences. Of note to museums and libraries is their work on Family Involvement and Complementary Learning.
The Institute for Learning and Brain Sciences (I-LABS) at the University of Washington
Helping children achieve their full potential. The Institute for Learning & Brain Sciences (I-LABS) is an interdisciplinary center dedicated to discovering the fundamental principles of human learning, with a special emphasis on early learning and brain development.
Michigan Alliance for Families
Provides information, support and education for families who have children (birth-26 years of age) who receive (or may be eligible to receive) special education services.
Michigan Department of Education
Family Matters provides parents and families with information about special education and other resources. Download the Family Matters information flyer and share it with parents and families that might be looking for information about special education.
National Center For Infants, Toddlers and Families
Zero to Three Parent Resources
This website is specifically designed for parents and offers good information and brain development in young children, stages of child development, as well as parenting tips and frequently asked questions.
Reading Rockets
Parent Involvement
This website explores reading and writing development in young children. The website features articles and videos from top reading experts regarding best practices in the classroom, support for struggling learners and how parents can help their kids succeed.
Sesame Workshop
Sesame Workshop projects bring critical lessons in literacy, emotional wellbeing, health & wellness, and respect and understanding. Bringing research and hands-on experiences to show how technology can be used to teach children.
Start With a Book
To ward off the learning loss that many children experience over the summer, Start with a Book offers adults engaging, research-based ideas for getting kids into books all summer and beyond. The free resources from Start with a Book build on what young children already like - dinosaurs, building, animals, sports, superheroes and music - so that parents, camp counselors, and others can have fun and interact meaningfully with children while helping to strengthen their reading skills.
The Children's Reading Foundation
The simple act of reading with a child will have lifelong effects on the child. This website has many resources for parents including book lists, tips for reading with children of different ages, even tips for grandparents working with grandchildren.
US Department of Education
Reading Resources
This website is a great source to find tips on how to help your child become a reader. Links lead to information on how to help your child learn to read, what to look for in reading programs, and simple strategies for creating strong readers.
Additional Resources:
All High Scope Curriculum Alignments
High Scope Curriculum
MEL Kids
PBS Kids
Oakland Family Services
Online Tutoring with Brainfuse