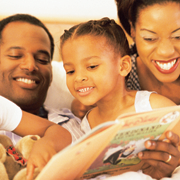 Parents
How to Raise a Reader
The West Bloomfield Township Public Library partners with parents to help raise children who love to read and read to learn.
Learning to read begins before children start school. From the time they are infants, children develop language and other early literacy skills that will help them learn to read. Grow Up Reading™ will give parents ideas and information on helping prepare their child for lifelong learning.
Raise your child to be a reader with help from the West Bloomfield Township Public Library. The library can show you how to nurture your child's literacy skills - even before he or she enrolls in school. It's never too early to start so come on in today .
Want further information?
Check out the following parenting books, magazines, articles, websites, and technology resources available to support a parent's involvement in their child's learning. Take a Virtual Tour of the
Youth Services Room
today. Also call the Youth Department at the West Bloomfield Township Public Library at 248-232-2250 or email to
wbyouth@wblib.org
with any questions.