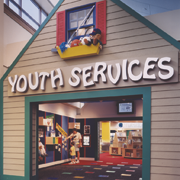 Partnering with parents to raise a community of readers.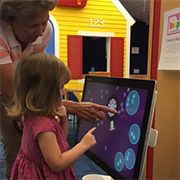 The Inspire (Large Media Tablet)
Westacres Youth Room
Entrance to the Youth Services Area
Develop basic skills and vocabulary. Encourage your child to push the buttons in the entrance. What shape are the buttons? What colors light up when the buttons are pushed?
Encourage your child's sense of discovery and exploration! Open the drawers and talk about what your child finds.
Activity Center
Toys in the room are selected because they are safe, educational and developmentally appropriate. Children can use the puppet stage for creative, dramatic play.
Use creative play and toys to help children develop basic skills such as matching, ordering (put people in order from smallest to largest), patterning (use vehicles to create a color pattern), reversibility (build a block tower; tear it down and start over), counting and sharing.
The Inspire (Large Media Tablet)
The Inspire is an oversized, interactive, multi-player, educational media device used in our library. The Inspire is engaging, easy-to-use, promotes interactions among children, facilitates a social learning environment, highlights natural curiosity and creativity of children. The Inspire encourages children's fine motor skills, speaking, number recognition, alphabet recognition, observation skills, classifying, patterns, prediction, ability to problem solving, and counting skills.
Learningscape
Just For Me When I'm Zero To Two! The colors, textures and shapes integrated into the Learningscape provide endless opportunities for babies and toddlers to explore and learn about their world. Use this learning zone to help young children stimulate their developing brain, encourage playful discovery about objects and develop gross and fine motor skills.
Media Collection
Extend learning and enjoyment by using educational videos and DVDs, read along kits and music CDs.
Easy Readers
Stretch your child's reading skills. Easy readers use controlled vocabulary, large print and fewer words per page, just what your beginning reader needs! The West Bloomfield Township Public Library has classified this collection into four catergories: Pre-Emergent, Emergent, Early Fluent and Fluent for easy access to evelopmentally appropriate reading.
Picture Books
Encourage active learning. Engage your child while reading by asking open-ended questions about the illustrations and photos in picture books. Ask him to predict what will happen next. Ask how he thinks the characters in the story are feeling. Ask him to relate the events in the story to his own life. ("Where have you seen a bear?" "What would you do if you woke up and saw three bears in our house?")
Repeat your child's statements in complete sentences in order to develop his understanding of sentence structure. Have your child turn the pages while you point to the words you are reading. Demonstrate for your child how books work, such as reading from front to back and left to right.
Don't be discouraged if your child wants to read the same book again and again. Encourage your child to pretend read a favorite story.
Point out and name letters in picture books and on signs in the Youth Services Room, to further develop letter knowledge. Children's proficiency in letter naming is a well-established predictor of reading success. Introducing just a few letters at a time enhances mastery.
Hopscotch Tiles
Have fun while practicing basic skills! Lighted and numbered hopscotch tiles make practicing number and color recognition fun for you and your child. Your child also practices gross motor movements while jumping, standing and balancing on one leg.
Seating and Display Area
You and your child can feel at home at the Westacres neighborhood library. Relax and read in the homey seating area just the right size for children.
Board Books
Start early to nurture a love of reading. Begin reading to your child when he or she is an infant; the pleasurable feelings that you create will help nurture a life-long love of reading. Board books are perfect for introducing babies to books. Allow your child to manipulate these sturdy books; point to the pictures and talk with excitement about what is on the page.
Activity Tables and Puzzles
Promote cognitive growth. Use the sand table and other educational materials to help your child make observations, learn about cause and effect, make predictions and analyze results.
Encourage your child to play with the mazes and puzzles. These activities promote logical thinking, help develop an understanding of spatial relations, as well as developing hand-eye coordination and finger and hand muscles that will be needed later for writing.
Fairy Tales
Nurture your child's imagination and love of books with a favorite fairy tale. All other non-fiction books for children are located with the adult non-fiction titles.
Parent/Teacher Collection
Learn more about child development and how to create an effective learning environment. Review the materials in the parent/teacher collection.
Series Books
Find your child's favorite titles and characters in our series collection. This collection is organized by series title so your child can head straight for his favorites!
Information Desk
Say hello to the librarians. We want your children to be comfortable coming to us with their questions. Librarians are always available to help you and your child find information in the library as well as point out important resources within the community.