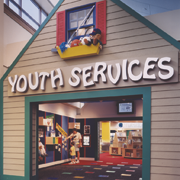 Partnering with parents to raise a community of readers.
The Library
Disclaimer:
**Library services may vary. Available services are in alignment with the current restrictions and safety precautions.
Parents are a child's first and most important teachers. Reading early and often to your child lays a foundation for reading success and lifelong learning. Reading aloud to babies, toddlers and preschoolers develops language skills and increases vocabulary, enhances critical thinking and creativity, nurtures emotional growth and self-confidence, creates independent learners and problem solvers, and most importantly, cultivates an enthusiasm for reading.
Raise your child to be a reader with help from the West Bloomfield Township Public Library. The library can show you how to nurture your child's literacy skills - even before he or she enrolls in school. It's never too early to start - let us help!
Read Early and Often:
Reading aloud to young children is the single most important factor in developing reading readiness skills and a love of reading. Researchers recommend that you begin reading aloud to children at birth and continue through their elementary years.
The more often you read to your child, the more likely he or she will develop into a proficient and prolific reader. By holding and hugging your child while reading and talking about books, you create a treasury of warm and wonderful feelings that help nurture a love for reading. Use the tips and techniques you find in Grow Up Reading to positively impact your child's literacy skills in just a few minutes every day. The benefits last a lifetime.
The First Years Last Forever:
Researchers have confirmed what parents instinctively know: the experiences babies have in the first three years of life have a profound impact on how the brain develops. A child's ability to learn - and to become a successful reader - is largely based on the quality of these early experiences. A stimulating environment that includes storybook reading, dialogue and language games helps produce increasingly complex neural links in the brain and results in greater intellectual development. A rich mixture of early childhood experiences lays a solid foundation for a lifetime of reading success.
Research has shown
that children need to acquire three broad skills to succeed as readers:
Oral language: knowing the names of things (vocabulary) and knowing how to put words together to convey meaning (grammar)
Print awareness: understanding that printed words have meaning, knowing the names of the letters, and knowing the rules of print (for example: print runs from left to right and top to bottom on a page)
Phonological sensitivity: understanding that words are made up of smaller sounds, and that letters in written language correspond to smaller abstract speech sounds called phonemes.
The West Bloomfield Township Public Library offers
a wide variety of services, materials and programs that support early literacy, including:
Board books, picture books, easy readers, read aloud kits and other materials that parents and children can read and enjoy together.
Educational computer software to reinforce early literacy skills.
Interactive and educational programs for babies, toddlers and preschoolers that use songs, rhymes and games to help develop reading readiness skills.
The youth services rooms
at the Main Library and Westacres Branch offer features specifically designed to support the development of reading skills, including:
A puppet stage and puppets so children can develop their creative and narrative skills
An activity center with hands-on learning activities that encourage exploration and critical thinking skills
Interactive displays that help children become independent learners and problem solvers.
Visit today and discover the Library as a partner in your child's future!