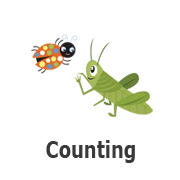 September
What reading experts say:
If young children enjoy reading with a parent as much as playing games and other activities, they are more likely to develop into successful, life-long readers. Make reading with your child one of the most enjoyable times of the day. Snuggle up and enjoy a book with your child every day.
It is also important for your child to see you and all members of your family reading for pleasure. Show your child how important reading is in your life and talk about how much you enjoy reading.
What good readers know:
Children who love reading rely on books as much as they do toys for learning and fun. They act out their favorite stories with puppets and props, they ask to be read to throughout the day, they are excited during shared reading time and they ask to visit the Library. Good readers also "read" or recite favorite books to adults.
What parents can do to help children Grow Up Reading™:
Week 1:
September is Library Card Sign-Up Month. Go to the Library and sign up your child for "My First Library Card." Pick up a copy of the fall youth program brochure.
Week 2:
Talk about the concept of "days" and "months." Count the number of days in September. Count the number of months in the calendar. Look at the date in September 2014 that your child starts kindergarten. Explain that you are going to count down the days until kindergarten begins.
Week 3:
Read five books from the "Counting" booklist. Make a tally mark for each book you read.
Week 4:
Help your child mark important dates on the calendar: birthdays, family vacations, holidays and other events.
Activities - Counting:
Count objects in everyday contexts. Count the buttons on your child's shirt, the apples you put in the grocery bag, the forks needed to set the table or the stairs to the front door. Start with small numbers (no more than five) and add a few as your child is ready for a challenge.
Play board games that involve counting. Simple board games help preschoolers recognize numbers on a dice and count moves. More complex games involve two dice instead or one or doubling the number that comes up for each move.
Children develop a basic understanding of geometry and spatial relations by playing with building toys like blocks. Encourage math related skills with block play such as count how many blocks, stack them as high as you can, then knock them over and build again.
Identify shapes in your home. Find basic shapes around the home, such as rectangles in light switches, squares in window panes, and circles in clocks. Explain to your child how to differentiate each shape by their defining features such as a triangle has three connected sides or that square is blue and it has 4 sides.
More Great Books to Read(click on a title to check for availability at the Library)