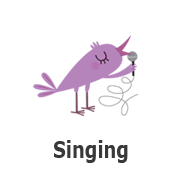 November
What reading experts say:
Reading books to children is a much more effective way to build vocabulary than family conversations or speech heard on TV or videos. Typically, an adult will only use nine 'rare' words per 1,000 words when speaking to a child under age five. There are three times as many of these less common words found in children's books than in everyday speech. When you read to your child, he or she hears more new words and develops a larger vocabulary more quickly. Hayes, D. and Ahrens, M.
Vocabulary Simplification for Children: A Special Case of 'Motherese', Journal of Child Language
.
"Rephrase and extend your child's words, ask a clarifying question (tell me more about the man you saw), model more complex vocabulary or sentence structure (yes, I see the tall skyscraper you built with lots of windows), and ask open-ended questions," says Susan Hall and Louisa Moats of Straight Talk About Reading.
What good readers know:
Good readers have a diverse vocabulary. They ask questions when they are unclear about what a word means, they use the context of a conversation or the action in a book to decipher the meaning of unfamiliar words and they use varied vocabulary in referring to familiar objects (this bird is big, but this elephant is gigantic).
What parents can do to help children Grow Up Reading™:
Week 1:
Read a rhyming book from the "Singing" booklist. Say or sing rhymes. Pick out rhyming words and talk about how the middle and endings sound alike. Say or sing a rhyme again and stop before a rhyming word. Have your child fill in the missing word.
Week 2:
Count the number of days in November. Count the number of weeks. Talk to your child about the number of days in each week and the number of weeks in each month.
Week 3:
Attend the Library's "Super Sing-Along" program this month. Learn some new songs and sing old favorites. Find program schedules at
www.WB-Buzz.org
.
Week 4:
Read five books from the "Singing" booklist.
Activities - Singing:
Traditional children's songs, folk songs, nursery rhymes, singing games, and finger plays are very important for young children. It helps them understand sounds, letter sounds, rhythm, rhyme, music, movement, speaking listening, comprehension and counting. Many children's songs or nursery rhymes expand vocabulary and subject areas such as letters, numbers and fine motor skills.
Music is an influential tool that supports children's critical thinking skills. Musical instruments inspire children to discover cause and effect. Exploring musical instruments also helps children learn how different instruments work and the sounds they generate.
Singing songs is a great way for young children to practice language and early literacy skills. When children sing, they practice pronunciation words, speaking, and rhythm, tone, rhyming and experimenting with their voice.
More Great Books to Read(click on a title to check for availability at the Library)