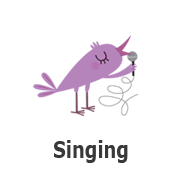 May
What reading experts say:
Research by Dr. Paul van den Broek from the University of Minnesota concluded that preschoolers' ability to make meaningful connections between events in their lives and stories in books is a strong predictor of later reading comprehension.
Parents can increase comprehension by more actively involving children in the reading experience. Studies have shown that there are significant gains in children's literacy skills when parents and children talk during shared reading times and children have a chance to explain how a story relates to their own lives.
What good readers know:
Good readers make connections between what they are reading and what they already know. ("This book says that monkeys eat bananas. But monkeys eat leaves too, because I saw them eating leaves when we went to the zoo.") Good readers also enjoy discussing how a character is similar to or different from them and how they would react to a situation faced by a character in the book ("What would I do if our dog started talking one day like Martha in
Martha Speaks
?")
What parents can do to help children Grow Up Reading™:
Week 1:
Use the calendar as a number line for simple subtraction problems. For example, start with May 10. Ask "What date is two days before May 10?" Count down two days. Write the subtraction problem: 10 - 2 = 8.
Week 2:
Visit
hoopla
to listen to music. Hoopla offers a variety of audiobooks, eBooks, comics, movies, TV, magazines, or music that you can listen to everywhere you have a screen-your computer, your phone, your car, even your TV. This is a great resource for young kids and families.
Week 3:
Make up a song or tune that includes your address and phone number. Sing it together so your child can learn both.
Week 4:
Read five books from the "Singing" booklist.
Activities - Singing:
Visit the West Bloomfield Township Public Library and pick up a copy of our nursery rhyme brochure. Singing with your child is an excellent way to learn basic melodies as well as counting and rhyming skills. Use an app like hoopla to download songs and sing along with music. This is a fun way to spend time together.
Dancing with your child is another fun way to encourage music appreciation while spending time together. The ability to dance and move to the steady beat (rhythm) is essential to all future reading skills and fluency.