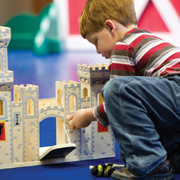 Parenting Resources
The West Bloomfield Township Public Library is working with parents and teachers to raise a community of readers. The Library's goal is to be a vital resource for your family and early reader.
For more information about helping your Kindergartner become a successful reader, call the Library's Youth Information Desk (Main Library: 248-232-2250; Westacres Branch: 248-363-4022) or go to the Library's website:
www.westbloomfieldlibrary.org
Parent Reading List
Listed below are a few of the additional resources available from the Library.