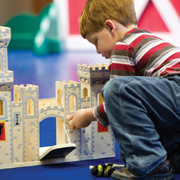 100 More Books To Read

Print 100 More Books List
Mobile Booklist Tracker
Have you read all of the 100 Picture Books to Read in Kindergarten to your child? Are you looking for more? The West Bloomfield Township Public Library youth services staff has put together a list of 100
More
Picture Books to Read in Kindergarten:
Animal Stories - animals are the main characters
---
Classics - books with staying power ... popular then and now
---
Concepts - alphabet, colors, counting and days of the week
---
Cumulative Stories - stories that build with successive and repeating lines
---
Folk and Fairy Tales - traditional tales from around the world
---
Humorous Stories - stories to make you laugh together
---
Imagination - stories that encourage children to use their imagination
---
My Family, My Friends, and Me - stories about independence and family life
---
School and Book Stories - going to Kindergarten!
---
STEM - Science, Technology, Engineering, and Math.
---
Stories in Rhyme - wonderful rhythm with rhyming text
Using the
100 More Picture Books to Read in Kindergarten list
print each of the category pages and place them in a prominent spot in your home where you and your Kindergartener can share books.
Once you have read a title, talk with your child about what happened in the story and what your child thought of the book.
Let your child rank the books by drawing one of the faces below on the list next to the title:

"I really like this book. Let's read it again."

"The book is okay."

"I didn't like this book very much. I like other books better."
Ranking the books will help your child develop critical thinking skills, which are crucial to reading and learning success.
Enjoy these and many other picture books in Kindergarten and beyond.