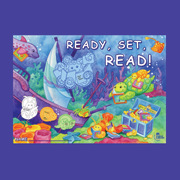 Words To Know
At the beginning of first grade, most children are "emergent readers." They are able to read familiar books that contain some of the high frequency words below. They are beginning to use their knowledge of letter sounds and the patterns in the text to figure out unknown words. During first grade, children learn several important strategies to decode more difficult words, to understand more complex stories and to read more fluently.
High frequency words (sometimes known as "sight words") occur often in both conversation and printed text. These words are used so often in books that first graders need to be able to read and write them quickly. A first grade student needs to immediately recognize these words in print, without slowing down to "sound" them out. Check with your child's teacher or school district for further sight or spelling words.
Words to Know:
a
am
and
are
at
big
by
can
cat
come

dad
for
get
go
going
got
had
he
her
here

his
home
I
in
into
is
it
like
look
me

mom
my
no
not
on
play
said
see
she
the

they
this
to
was
we
went
will
with
up
you
Activities:
Use a permanent marker to write the sight words on a balloon or beach ball. Toss the ball back and forth. When you catch, the ball read the word that is showing on the top.
Put five small items into a bag. Have your child reach inside and pull out an item. Work together to name words that rhyme with the name of the item.
Share a wordless picture book and create a story to accompany the pictures.
Take turns identifying the beginning, middle and ending sounds in a word.