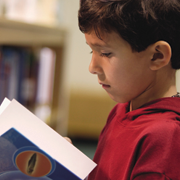 Pre-Emergent Readers
Pre-emergent books are for the brand new reader. These books contain large print, few words per page and large pictures. Many pre-emergent readers include a list of the high-frequency words used in the books.
Children at a pre-emergent reading level will:
Be aware that text should be read from left to right and from the top of the page to the bottom
Know that printed words have meaning
Use pictures as clues to help decode the words
Point out sight words to your child as you read.
Reread books over and over again (This encourages comprehension, retelling and word recognition)
Play with sight words! Try sight word bingo or memory games to increase your child's awareness of sight words
Activities to do at home:
Visit the library and pick out books to read together. Talk about the concepts of print; author, illustrator, cover, back, words vs. pictures, reading left to right, return sweep (when you finish a line of reading return to the beginning of the next line). Have your child predict what the book might be about based on the cover.
Guide your child to connect a book to real world experiences. If you are reading a book about the zoo, recall a recent trip to the zoo. What did you see? Whom did you go with? This skill helps children build a connection to stories as well as recall and retell events.
Check out an information book. Informational books provide facts about a specific topic. These books provide accurate and easily understood information. Before reading, discuss what you would like to learn about that topic.
Pre-emergent Easy Readers at the West Bloomfield Township Public Library are identified by a white spine label. Each label has a letter of the alphabet, indicating the first letter of the author's last name.