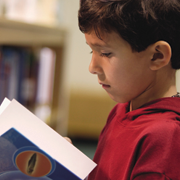 Pre-Emergent Readers
Pre-emergent books are for the brand new reader. These books contain large print, few words per page and large pictures. Many pre-emergent readers include a list of the high-frequency words used in the books.
Children at a pre-emergent reading level will:
Be aware that text should be read from left to right and from the top of the page to the bottom
Know that printed words have meaning
Use pictures as clues to help decode the words
Activities to do at home:
Read books with rhyme, rhythm and repetition such as Dr. Seuss this gives children a great foundation for how language should sound when reading.
Encourage your child to think about books while jumping into a reading adventure into reading. Look at the cover and have your child predict what the book may be about and while reading stop and ask your child what he/she thinks will happen next.
Look for familiar words as you drive or around stories. Signs contain environmental print such as bathroom, registers at the store, stop sign, yield, school zone, Target, McDonalds, and Starbucks etc. Those recognizable signs are your child detecting and the signs as reading material.
Play word games that encourage your child to learn sounds. For example, "I spy something that starts with the letter M. M sounds like MMMMMM. Can you find something that starts with the letter M?"
Encourage your child to take books on vacation, car rides and trips. This will encourage a love of reading, but also use reading as a form of entertainment.
Pre-emergent Easy Readers at the West Bloomfield Township Public Library are identified by a white spine label. Each label has a letter of the alphabet, indicating the first letter of the author's last name.