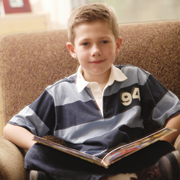 Fluent Easy Readers
Fluent Easy Readers contain more complex ideas, extended episodes and action and more advanced vocabulary. Many of the fluent titles are part of a series, which means children can enjoy a favorite character over and over in different books.
Children at the fluent reading level will:
Be able to decode longer, multi-syllabic words
Read chapter books and comprehend most or all of the story
Ask the meaning of an unknown word and usually remember it for future use
Read aloud expressively and smoothly, using punctuation and sounding like they are speaking
Activities to do at home:
Visit the Library and check out a poetry book. Have your child read their favorite poem a few times. Repeated readings of your child's favorite poems will help them control their voice, tempo and expression. Try a well-loved, humorous poetry book such as Shel Silverstein's, Where the Sidewalk Ends!
Create your own reader's theater at home by reenacting any picture book. Have your child read the book as if it were a performance, acting out each page from the story. Let them pretend to use a microphone like they're on stage or as if they were an actor in a movie.
Choose a book to read aloud with your child. While reading, discuss the sequence of events in the story. Revisit the story to gather more information; look at the pictures or reread passages for clues. Have your child draw the beginning, middle and end of the story in order with an arrow between each drawing to represent the sequence of events.
Books at the fluent level are identified with a blue label on the spine. Many of the fluent books also have red dot stickers, indicating they are chapter books, which is an important milestone for many fluent readers.