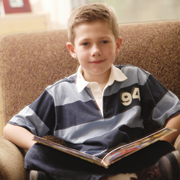 Fluent Easy Readers
Fluent Easy Readers contain more complex ideas, extended episodes and action and more advanced vocabulary. Many of the fluent titles are part of a series, which means children can enjoy a favorite character over and over in different books.
Children at the fluent reading level will:
Be able to decode longer, multi-syllabic words
Read chapter books and comprehend most or all of the story
Ask the meaning of an unknown word and usually remember it for future use
Read aloud expressively and smoothly, using punctuation and sounding like they are speaking
Activities to do at home:
When you read together, talk about the meaning of the book. Help your child make connections between the book and her own life, experiences, and other books you have read together. Ask her questions about characters or events. Ask your child to explain what the book was about in her own words.
Look for environmental print around your house, town or as you drive around. Environmental print refers to the signs, logos, symbols and words that children see every day and recognize without being able to read them. Let your child make her own book of environmental print by using newspapers, magazines, safety scissors, glue and blank paper. Have your child cut out familiar logos and symbols, paste one on each page, and read you her book.
Encourage your child to tell you stories about photos, pictures or wordless picture books. Simply ask your child to tell you who the characters are, what they are doing, and why they are doing it. Assure her there is no right answer: what you are creating is a story from her imagination. You can also encourage her by telling a story of your own.
Books at the fluent level are identified with a blue label on the spine. Many of the fluent books also have red dot stickers, indicating they are chapter books, which is an important milestone for many fluent readers.