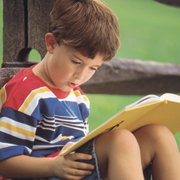 Emergent Readers
Emergent books typically have more text than books at the pre-emergent level but still feature large print and plenty of white space. Emergent readers have more text to decode and a more complex storyline to follow.
Children at the emergent reading level will:
Recognize many of the "Words to Know"
Use beginning and ending sounds to figure out simple words
Listen to themselves read, stop when they make an error and go back and correct the error themselves
Begin to recognize and read word endings, such as -s, -es, -ing, -er, etc.
Activities to do at home:
Recreate a well-loved picture book. Have your child draw their own version of their favorite picture book, see how well they can retell you the story.
Talk to your child about the different genres of books such as fiction and nonfiction books. Also talk about what type of books your child enjoys most. Discuss the reason we read different types of books and pick out a book from a new genre (chapter book, informational text or graphic novel). Visit the Library for new book or genre ideas.
When reading a nonfiction book, discuss the common features in a nonfiction book such as headings, tables of contents, and glossaries. Use those common features to learn a new fact or word.
Emergent Readers have orange labels on the spine.