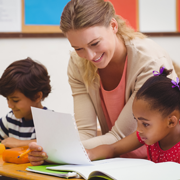 Screeners
The Center for Disease Control states "developmental screening is a short test to tell if a child is learning basic skills when he or she should, or if there are delays. The American Academy of Pediatrics recommends that all children be screened for developmental delays and disabilities during regular well-child doctor visits at 9 months, 18 months, and 24 or 30 months." As early childhood educators, you may implement or be asked to complete one of these screeners that can lead to early intervention.
Ages and Stages Developmental Screening
Tips & Tools for Informing Families and Improving Your Screening Program
Ages and Stages Questionaire (ASQ)
This parent-completed developmental and social-emotional screener pinpoints delays as early as possible. There are a number of ASQ forms to fit the early educator's needs.
Ages and Stages Questionnaires (Early on Oakland)
"Great Start Collaborative-Oakland and Early On Oakland, along with several community partners, are committed to ensuring that all children under the age of 5 years receive routine developmental screenings."
BRIGANCE
When it came to his students, Albert H. Brigance loved sharing good news. Beginning his career as a school psychologist in the 1970s, Al noticed that assessment tools tended to emphasize what students didn't know and couldn't do. He wanted to change the conversation.
Developmental Monitoring and Screening
Developmental monitoring observes how your child grows and changes over time and whether your child meets the typical developmental milestones in playing, learning, speaking, behaving, and moving.
Developmental Screening Tools
Here are some tools to guide early childhood providers with developmental screening, tools and resources.
The Devereux Early Childhood Assessment (DECA)
"DECA is a nationally normed assessment of within-child protective factors in preschool children aged two to five. It evaluates the effectiveness of individual child and program-wide interventions, provides developmentally appropriate strategies to foster resilience, effectively screens for emotional and behavioral concerns, emphasizes a team approach among professional and family members, meets programs' varying needs by allowing for flexible implementation, and meets Head Start and IDEA requirements for strength-based assessment as well as APA and NAEYC assessment guidelines."