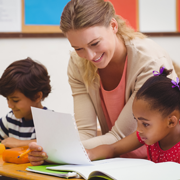 Professional Workshops & Training
Early Childhood Educators,
The State of Michigan has required some changes to the early childhood professional development registration policy. In order for hours to be compliant and count toward hours of professional development, all participants must create an online account at
miregistry.org
.
The registration process is quick and easy. Each individual must create his or her own account. The website has a guide on how to register, as well as how to search for trainings. You can search for professional development offered at The West Bloomfield Township Public Library or in Oakland County. This website will track your professional development hours. Certificates of completion will be available in your online profile after your training attendance is verified; paper certificates will no longer be distributed.
The State of Michigan and Great Start to Quality offer various opportunities for professional development. There are childcare trainings offered throughout Oakland County that touch on many different subjects related to early child development and best educational practices. These trainings are created to help improve the quality of your childcare program. If you need further assistance with registration, online accounts or searching for additional trainings, please contact Mireistry at
mi.newworldnow.com
.
We look forward to another great year of early childhood professional development!
Thank you,
Emily Vickers
Early Childhood Specialist
West Bloomfield Township Public Library
vickerse@wblib.org
248-232-2263
2019-2020 Preschool Professional Development
Wednesday, February 19, 2020
6:30 PM- 8:30 PM
Understanding Infant/Toddler Social Emotional Development
Wednesday, March 18, 2020
6:30 PM- 8:30 PM
Intro to Assessment
Wednesday, April 15, 2020
6:30 PM- 8:30 PM
Parent Teacher Conferencing
Wednesday, May 20, 2020
6:30 PM- 8:30 PM
Adverse Childhood Experiences