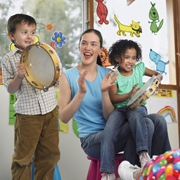 Music, Media and More
Teachers, don't forget those aural and visual learners. The library offers materials in different formats for you to enhance any lesson.
Read Alongs help children develop vocabulary, listening and comprehension skills as they follow along with the text. Read Alongs are available as picture books, fiction and non-fiction titles.
Youth DVDs provide cognitive and literacy enhancement with a wide array of themes and topics. Teaching a foreign language or specific science or math concept? Check out one of our various youth nonfiction DVDs and model the learning process WITH your students!
Knowing that music uses both sides of the brain, creative/feeling and analytical, you must check out our children's CD collection to enhance your room's repertoire. Use our music to help evoke emotion or movement and don't forget to sing along!
Materials
: