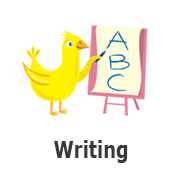 Writing Activities
Have your baby sit in a high chair and play with applesauce or pudding. This is a great fine motor activity that promotes fine motor skills, dexterity and hand eye coordination.
Babies are just learning to use their hands. Babies will explore objects by putting them in their mouths. Hand things to your baby, have them pick things up or grab things off the blanket. This will help babies with fine and gross motor skills that increase their core, balance and coordination skills.
Give your baby or toddler writing or drawing utensils in their high chair. This will encourage fine motor skills, hand eye coordination, colors, and movement as children draw and play.
Messy play often promotes fine motor skills such as using markers, crayons, chalk, and paintbrushes. Play somewhere easy to clean up like a kitchen table, outside or a high chair tray. This allows babies to increase fine motor skills, creativity and hand eye coordination skills necessary to build future writing skills.