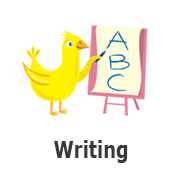 Writing Activities
Playing in the water is a great sensory experience for babies. Most babies love water! Join a swim class, go in your pool at home or a lake near your house and enjoy the sensory experience with baby. Allow them to feel and manipulate the water with buckets or shovels, this will encourage fine and gross motor skills needed for writing and drawing. Do not forget the floatation devices to stay safe in the water at all times.
Babies are just learning to use their hands. Babies will explore objects by putting them in their mouths. Put pudding on baby's high chair tray. Allow them to play, draw, write, and scribble in the pudding. It is easy to clean up and great for writing development.
Never too young to make a creative art project. Be prepared to get messy and that is okay. There are many crafts that promote fine motor skills in babies such as playing with shaving cream, painting, using markers. All of these options can be easily done outside or indoors on a washable service.