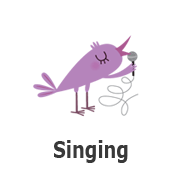 Singing Activities
Sing, Read, Repeat. Do you get tired of singing the same songs or reading the same books over and over again? It can become mundane, but it's such an important factor in early childhood development. Read favorite stories and sing favorite songs over and over again. Repeated fun with books will strengthen language development, oral language, successful developmental growth and positive feelings about reading.
When you sing and hold your baby, you introduce new vocabulary. Nursery rhymes provide a variety of new words and concepts as you sing them to your child. Point out words you may have sang about, "Look, there's a hill just like the story of Jack and Jill."
Language and words can be musical. As you sing, the baby's language comprehension begins. Talk and sing to your baby about what you're doing throughout the day. Make up songs during clean up time or bath time. This is a fun way to get your baby excited and stimulated throughout the day.