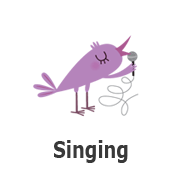 Singing Activities
Visit the West Bloomfield Township Public Library for Baby Time. This interactive storytime will stimulate your baby's brain development through movement, thymes, finger plays, puppets, books, and creative gross motor skill activities. This interactive program is designed to build positive communication between baby and caregiver.
Babies love to hear the sound of your voice, no matter how great you sing. Engaging in music activities together can boost your baby's communication, language, literacy and social skills.
Play music during difficult transition times such as nap/bed time or goodbyes (as you leave for work or a trip). Create unique songs for each or play lullabies to create a relaxing atmosphere. This helps baby begin the process of self-regulation, self-soothing, and calming when handling daily tasks or situations.