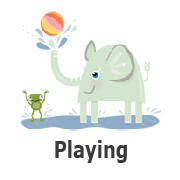 Playing Activities
Create outdoor memories with your child. Play on the beach, go for a walk or play with other children in the neighborhood. Outdoor time is a wonderful way for families to create lasting memories while exploring nature.
Don't forget about Tummy Time! Giving your child a chance to spend time on her tummy is important for their development. It may not look like anything's happening, but it's helping her develop important muscles in her neck and trunk. As she gets stronger, your baby will begin to pivot in a circle on her belly to reach toys. Exploring in new ways like this builds your baby's critical thinking and problem solving skills.
Let your baby safely move, crawl and explore. Help your child gain awareness of herself and her environment by letting her crawl through play tunnels, sit in a child-sized tent, climb up the toddler slide or play in a big box.